HRSD Grit Removal Study Revisited - 3 Important Things to Know
This white paper discusses the findings of a grit removal study for the Hampton Roads Sanitation District (HRSD). Readers of this white paper will learn details of the study, including:
Detailing the basic differences of vortex systems – and what the corresponding rated removal efficiencies are for each.
Why ensuring proper installation, particularly for influent ramps and effluent shelves, matters for effective grit capture in vortex systems.
Why Cross-Channel Sampling is the correct grit sampling method for testing any forced vortex system.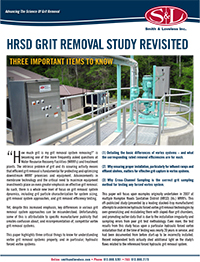 To continue with this white paper, please complete the form at right.